Spirit: Riding Free Review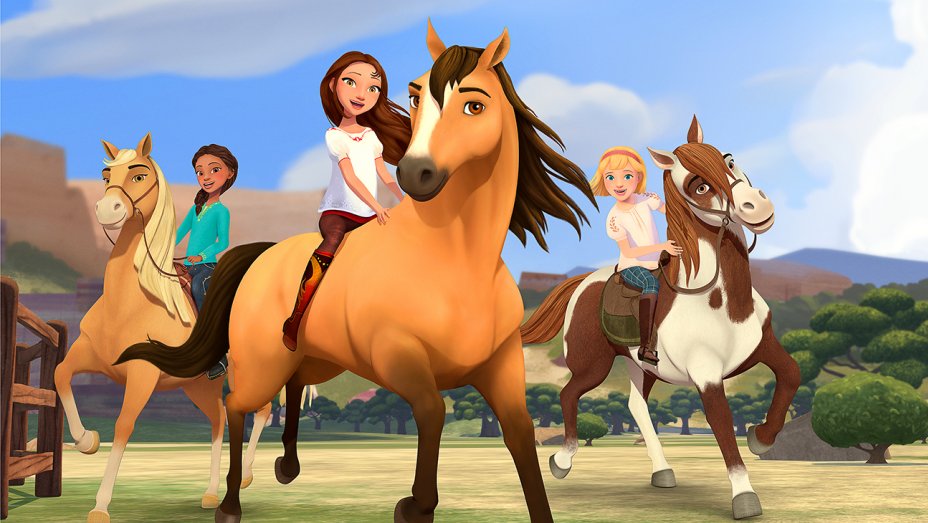 The Netflix/Dreamworks girl-and-her-horse tale is uplifting and entertaining, if a bit historically muddled.
When I heard that Netflix was losing its Disney content in 2019, I quietly resolved to cancel my subscription once Disney rolled out its own streaming service. Nearly everything we watched on Netflix was Disney content. But just when I thought I was out - they pulled me back in! Or rather, they pulled my kids back in with a series of engaging original and exclusive kids shows.
The first one I'm going to write about is Spirit: Riding Free, a Dreamworks TV production.
Free Spirits
Twelve-year-old Fortuna "Lucky" Prescott is being transplanted from the "big city" when her father comes west to help build the railroad. As the new girl in town, she struggles to make friends and swiftly finds a kindred spirit in the wild stallion nobody else can ride.
Spirit may sound like a pretty derivative girl-and-her-horse story, and it is. What makes it unique is its characters and their relationships. Through the townsfolk of Miradero, it highlights important messages about friendship and tolerance. Relatable, universal themes include Lucky feeling out of place (being a city girl in the "Wild West"), railing against societal conventions (embodied by her Aunt Cora, who serves as a sort of governess), and having trouble accepting her widowed father's new girlfriend.
The main cast is commendably diverse. Lucky's mixed-race heritage (her mother was a Mexican trick rider) is just taken as an unremarkable fact. One of her best friends is African-American girl Pru, whose father is an influential rancher. The occasional portrayal of Native Americans is done in a positive light. If only the real Old West were such a nice place. I wish the boys were given more to do, but there's still enough to keep my son engaged.
The show has a healthy dose of adventure. Lucky and her friends get into all kinds of scrapes, from dodging mine explosives in a canyon to facing down bandits and wild wolves. The peril is pretty mild for the most part, but a few scenes may be too much for sensitive young viewers. One particularly heart-rending string of episodes involves Spirit and Lucky being separated and Spirit getting hurt trying to make his way home.
New Old West
My main quibble with the show is the historical accuracy - or complete lack thereof. Nobody goes to a kids cartoon expecting a documentary, but I do expect a show to at least vaguely depict the time period it's allegedly set in. Spirit isn't even in the ballpark.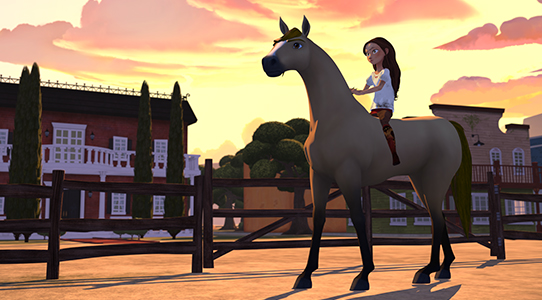 Girls run around in short-sleeved shirts and trousers. They talk about "going camping" and swimming pools. Ice cream and bicycles turn up, along with cameras from the mid-1900's. I could've sworn I even saw an electric light in there at one point!
All this is contrasted with scenes that are squarely out of the late-1800's, like the building of the railroad and people talking about Victorian-era traditions.
I approve of the show dialing down the prejudice for something more kid-friendly, but there's just no sensible reason for these other jarring anachronisms.
It has at least provided fodder for some interesting discussions with my kids about realism and TV, even if I have to restrain myself from doing a MST3K style commentary throughout each episode.
Independent Streak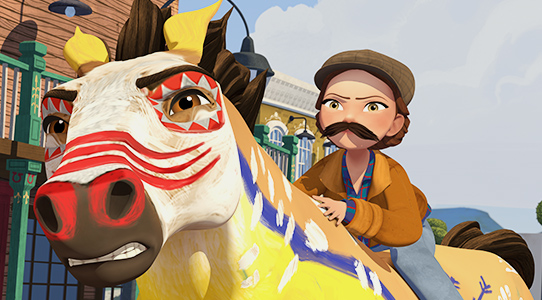 Of all the episodes, the one that resonated the most with my kids was the one where Lucky is prevented from entering a horse race because girls aren't allowed. Undaunted, she and Spirit put on a disguise and enter anyway. They railed at the unfairness, and reveled when Lucky showed up the haters by winning the race.
"I wasn't racing for the prize," Lucky says when the race official disqualifies her and denies her the trophy. "I did it to prove that girls should be allowed to race, and that Spirit was the fastest horse in the world. So I hope the officials change the rules, so next year Spirit and I can beat you again."
With messages like that, this is a show I can get behind even if it can't figure out what year it's in.
Ratings
Princess Power:
Overall:
Bechdel Test: Pass in spades!
Learn about my Ratings System.