Falling Skies - Ladies of the Apocalypse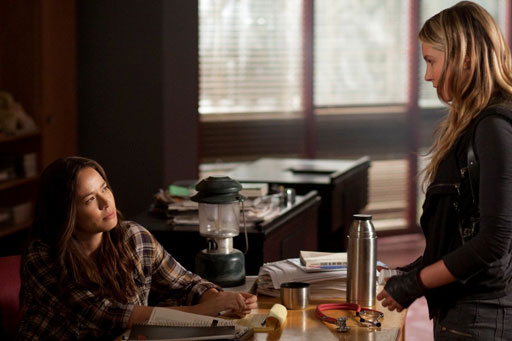 Spielberg's post-apocalyptic sci-fi series features a pair of compelling women warriors.
Falling Skies, the post-apocalyptic drama airing Sundays on TNT, has just begun its fifth and final season. If you're not already watching, it's a great time to tune in and enjoy what is shaping up to be an exciting ride to the finish line.
Set in the aftermath of a devastating alien invasion, Falling Skies focuses on a band of human resistance fighters - ordinary men and women struggling to beat back the aliens and retake their homes.
Although Falling Skies (like so many sci-fi shows) features a male-dominated cast, it does have two strong female leads.
SPOILER ALERT! If you haven't seen the first four seasons, this article does contain minor spoilers.
Anne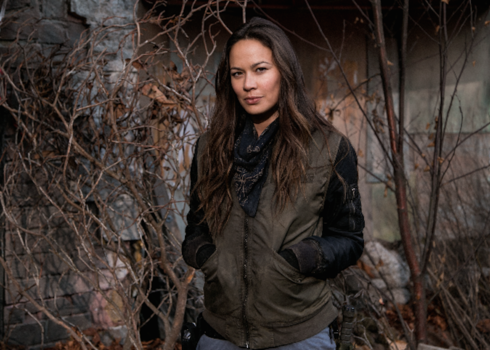 Dr. Anne Glass-Mason (Moon Bloodgood) was a pediatrician before the invasion, but soon found herself thrust into the role of combat surgeon. She lost her husband and son early on in the war.
While Anne is the love interest (now wife) of the show's hero, Tom Mason, that relationship doesn't define her. In the early episodes she is established as the de-facto leader of the civilians, and she's also the group's only doctor.
In the 4th season, after being separated from Tom and their daughter Lexi, the once-pacifist Anne takes up arms to fight her way back to her new family. She learns that the aliens have monkeyed with Lexi's DNA, causing her daughter to age rapidly. Lexi ultimately sacrificed herself for the 2nd Mass, and now Anne fights alongside her new husband and stepsons on the front lines.
While Roger Ebert took exception to a scene in the first season where Anne has a minor breakdown about her lack of family photographs, for me that scene defined Anne's strength. Everyone had been nagging her to put up a photo on the "remembrance wall" in memory of her son. Finally she was forced to admit that she had nothing - no pictures, no mementos, just her memories. As a parent, that was a heart-wrenching thought, and I think the girl's entitled to a few tears. Grief is not a sign of weakness.
If anything, that breakdown highlighted Anne's inner struggle to hold onto her hope and humanity despite her personal loss and the devastation around her.
Maggie
While Anne is the compassionate caretaker of the 2nd Mass, Maggie (Sarah Carter) is its fiercest fighter. Having survived brain cancer before the invasion, Maggie has a pragmatic outlook of life. She can appear hard-nosed and cold at times, but also displays moments of warmth.
In the first season, Maggie teaches Anne how to shoot after the doctor was robbed at gunpoint. In the fourth season, she's implanted with alien "spikes" in her spine that give her enhanced strength, speed and toughness. The spikes have turned this hardened survivor into even more of a force to be reckoned with.
Too many of Maggie's storylines have been tied up with her romantic relationship with Tom's sons, but the showrunners have promised that the fifth season will give her more to do than be a fixture in a silly love triangle. We've seen glimpses of that so far this season, with hopefully more to come.
The Final Battle
Falling Skies has had its ups and downs (the third season was particularly awful), but overall it's provided an epic blend of action and family drama. Only seven episodes remain for Anne, Maggie and the rest of the 2nd Mass, but it's shaping up to be quite a showdown.
Read my weekly reviews of each episode as Season 5 marches toward the finale.
More resources:
Watch Falling Skies on TNT Online
Ratings
Princess Power:
Overall:
Bechdel Test: Some episodes pass; many fail.
Learn about my Ratings System.