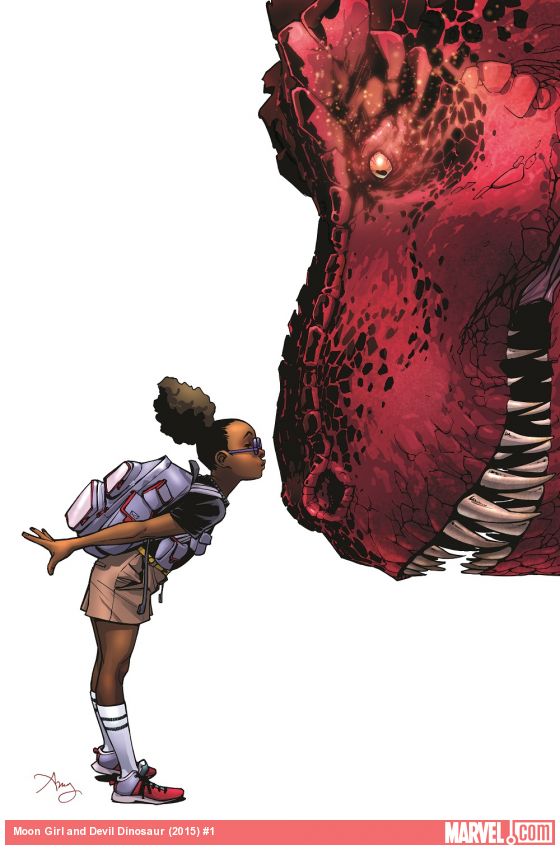 With the fall season almost upon us, I wanted to do a series of posts to highlight upcoming shows that might be of interest to fans of self-rescuing princesses.
Comic books aren't really my thing, but the announcement of Marvel's newest superhero is worthy of some positive buzz: she's an African-American pre-teen girl who just happens to be a genius.
Moon Girl and Devil Dinosaur will feature the adventures of Lunella Lafayette, aka Moon Girl, and her 30-foot companion T-Rex.
Moon Girl is part of Marvel's attempts to reach a younger audience, and promises to be more than just superpowers and cinematic universe continuity. Lunella sounds like she has the makings of a self-rescuing princess. In an interview with marvel.com, writer Amy Reeder said:
Lunella is quite the little genius and has a bit of an obsession with electronics; she builds things, which comes in handy when solving any problems that come her way...Lunella really values her intellect and truthfully wants others to recognize it as well. To her, having powers somehow undoes all the cool things she can already do; she sees her smarts as her true identity.
Moon Girl and Devil Dinosaur is slated to be released sometime this fall. An exact release date has not been announced.
Image Credit: Marvel